Cindy Sherman Retrospective: A visit to MoMA
Last week I had the pleasure of exploring the Cindy Sherman Retrospective at MoMA. Sherman is arguably the most well-known living female fine art photographer. I had been waiting to visit the exhibition for months. Sherman has always been very inspiring to me, in my junior year of college I created a 20-image photo project loosely based on Sherman's "Untitled Film Stills".
As I worked my way up escalator after escalator I finally reached the sixth floor and was greeted by walls of large murals juxtaposing colorful portraits of Sherman amidst black-and-white forest backdrops. These murals compose Sherman's latest body of work.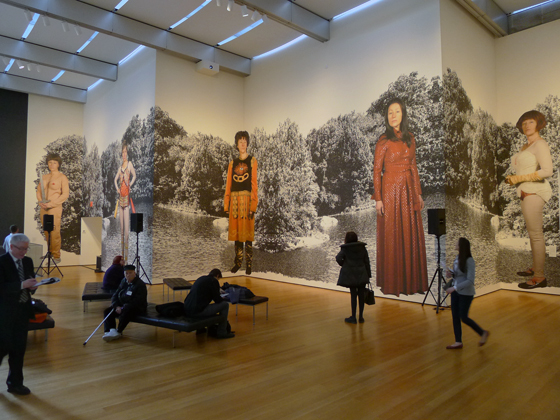 Moving through the exhibit each room is organized by theme or project rather than Chronological order. I actually moved backwards through the exhibit starting with more recent satirical work by Sherman and ending with my favorites, the "Untitled Film Stills". All 70 of the stills are on display, each with its' own cinematic feel.
Walking from room to room Sherman comes alive in the large-scale photographs challenging conventions about female stereotypes to portraying the macabre and even recalling historical figures.
One of my favorite parts of the exhibits was Cindy's paper dolls and the "Doll Clothes" Super-8 stop-motion video she produced in 1975. This was a part of Sherman's body of work I had never seen and only added to my appreciation.
Doll Clothes can be viewed here- http://www.youtube.com/watch?v=HUJlYsvdV7I
Sherman's range and ability to push herself as an artist is truly something to behold.  After about an hour and a half of wandering from room to room, realm after realm of Sherman's imagination I hurried to make it downstairs to check out the Sanja Ivekovic
Exhibit entitled "Sweet Violence" that spans four decades of Ivekovic's work as a video and mixed media artist dealing heavily with feminist and political ideas. I will cover this exhibit in a later review.
Overall, it was a day of inspiring pioneer female artists. I highly recommend both exhibits.
Cindy Sherman's Retrospective is running now through June 11, 2012.